The Nairobi Hospital Laundry Department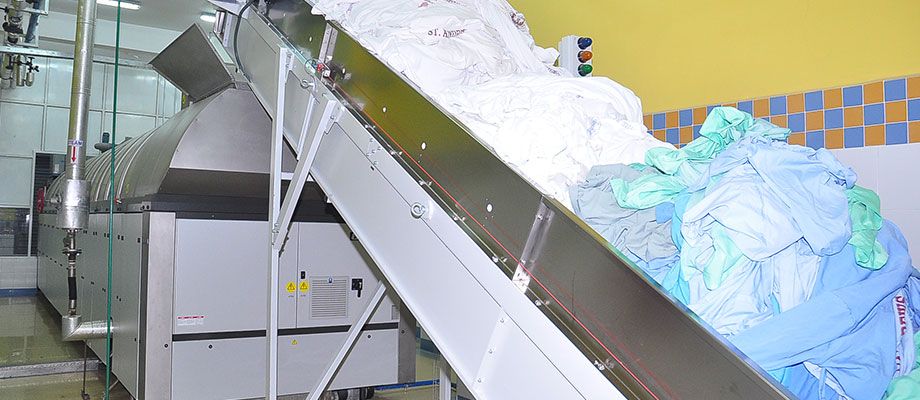 Laundry overview
The Nairobi Hospital boasts the largest laundry in East and Sub-Saharan Africa. The laundry is located at Anderson Centre and is equipped with state-of-the-art equipment which includes a 12-chamber hygiene Tunnel washer-Africa's largest, barrier washers for handling infected/foul linen, stand alone high spin washers for customized laundry and several assortment of finishing equipment and back up. The Laundry does not only process linen but provides holistic linen solutions to the entire hospital, it's outlets and our external customers.
The department's regulatory compliance is guaranteed. The design of our facility meets all the recommendations and requirements governing a healthcare laundry. Our processing operation incorporates OSH, EMS, QMS and other regulatory requirements and its open 7 days a week from 7.00am to 7.00am.
The safety of our clients, hospital staff and patients is our number 1 priority, infection prevention starts with a clean environment and that's one of our specialities. To that end, we guarantee the results of our work in terms of infection control, safety, timeliness and quality.
To sum up, what defines our Laundry is ordinary people doing extraordinary things. We believe people are the true "product'' of our service and productivity is critical but productivity without passion is a mistake.
''Laundry is one thing that is never noticed until it's not done''.
The services we offer include:-
Same day service
Express service
Scheduled Laundry (e.g. Mon, Wed, Friday) or as agreed
The Benefits of using our laundry:
Speed/efficiency
Quality
Affordability
Professional results
Understanding of the current normal needs (Infection control)
Modern equipment which allows customization of programs unique to your laundry items with backup available.
Textile advice
Caring and professional team
Our Partners
The following are our partners:
Hotels
Apartments
Guest houses
Commercial laundries
Hospitals
Nursing homes
Private clinics
Walk-ins/individuals/staff
Spas/ saloons/beauty parlors
How it Works
You drop it! We clean it! You Pick it!
The Outcome
" We present You"
Rates
Our rates are very competitive in the market
Contacts

The Nairobi Hospital
Tel:+254 (0)20 2845000/+254 (0)20 2846000
Mobile: +254 (0) 703082000/+254 (0) 730666080/+254 (0) 730666082
Email: laundry@nbihosp.org